Congratulations to our 2021 champions!
OPEN Champion 
TRACY HINTON AND LAD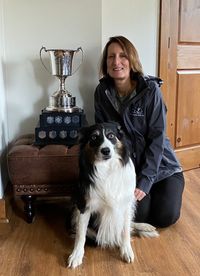 Lad came to me at a year old from Vergil and Anne Marie Holland.  He is out of Vergil's Brooke, sired by Patricia MacRae's Cap.  I remember the day I saw him and said, "OH NO he's fluffy!".   A name that stuck.  I have grown to appreciate how handsome he is. 
He has a great way with sheep, they like him.  He is calm and confident.  He does not care if they are dog broke hair sheep or western range ewes. I feel very blessed to have had him at my side. He helped make me a better trainer/handler and has become a wonderful partner. 
Thank you to Vergil, my mentors and the OBCC community for all your support.  Trials, clinics, club events, handler's dinners, and chats in the handler's tent.  It truly is a great family! 
OPEN Reserve Champion 
AMANDA MILLIKEN AND DAR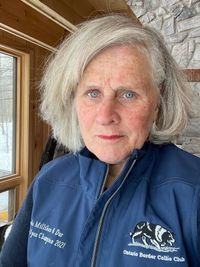 Amanda and Dar have become quite a team in the short time they have been trialing.  We look forward to seeing what the future holds for them.  Congratulations! 
(Amanda has been busy travelling and lambing and will provide a bio as soon as she can.) 
PRO NOVICE Champion 
TRACY HINTON AND DOY TYE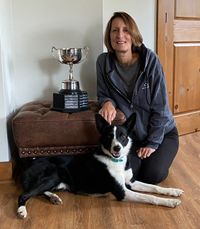 I purchased Tye as a puppy from Barry Breemersch.  His dam was an import named Zoe and his sire by then Scott Glen's imported Taff. 
He was my dog from the second I picked him up.  We rarely have words.  He was a handful the first couple of times on sheep and then settled in. Training was and is a pleasure.  I have never brought a dog along so quickly.  He is sensible, reliable, and good with his sheep. 
I look forward to seeing him through his nursery year and into open! 
PRO NOVICE Reserve Champion 
VICTORIA LAMONT AND WILLOW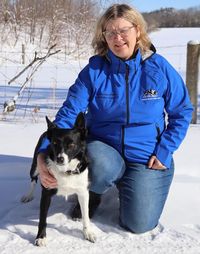 I got Willow from Allistair Lyttle in Ireland. She looked good on video and as a grand-daughter of Hutchinson's Sweep, she had good breeding. I had a bit of buyer's remorse at first because she had a lot of eye and even more annoying habits: She is a squeaky barker and a foot licker (my feet, not hers). No-one in my house can make a move without Willow triggering a five-dog stampede to the door because it must be walk time. Also: she has two left ears. I contemplated selling her, but I didn't try very hard because part of me really liked her. Her good qualities became more and more evident to me the more we got to know each other. She is a tenacious worker with a lot of power, and she is a good learner. She can move like a ninja when the occasion demands. She still likes crawling on her belly eyeing up sheep a little more than I would like, but her good qualities more than make up for it. As for the squeaky barking and foot-licking, it's nothing that can't be solved with earplugs and sensible footwear. 
NOVICE NOVICE Champion 
PAMELA HALL AND FEN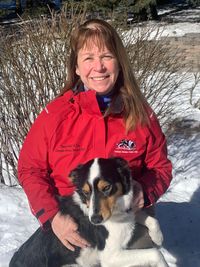 Fen came into my life at 18 months, as a started dog from Christine Jobe in Alberta. I really couldn't have asked for a better dog. She initially had some anxiety at the top of the field and would grip, we have been working on that and she has gained much more confidence. Having a new dog with much more instinctual drive and skills has been a big step ahead for me as a handler. Big thanks yous' to everyone that I have been taking lessons with, I wouldn't be here without you. I look forward to each new step on our journey in this dynamic sport. 
NOVICE NOVICE Reserve Champion 
TANIA COSTA AND BEN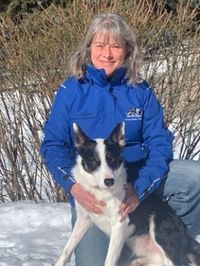 Ben and I have been working sheep for 3 years now.  I have attempted herding with several different dogs, on and off again for the past 8 years.    Prior to that I competed in Agility and Flyball but sheep herding is way more fun and challenging.  There is nothing better than being in the outdoors doing what a border collie was meant to do. 
We have had our ups and downs, mainly due to my inability to read the sheep and remember my flanks as I whirl around the post.  I find it interesting to watch Ben as he almost shakes his head as if to say "no wrong flank you dummy!"  I really think I need to have "away" and Come-bye" tattooed on my hands. 
I truly feel this summer we finally got our mojo and started working together as more of a  team.  Now on to the big leagues, Pro-Novice, which I am told is the biggest jump in competing.  I believe that, as having a dog with medium eye is proving to be a challenge as we learn how to drive. But the sport would not be fun unless we have a goal to work towards. 
As the saying goes, "when ordinary humiliation is not enough, we train sheep dogs!" 
Thanks to everyone who has been part of this incredible journey.