By Mary Thompson
This is one of my favourite trials, and not just because it's close to where I live, which is in itself is a bonus, but more because it has a lovely friendly flavour and a wonderful wide deep hay field to test your handling skills. 

This season those skills were put to the test because the hosts moved the set out cone much further back than normal, still leaving a good 250 yards beyond that ending at the bush line. The field is basically an oval with some swales on both sides just deep enough to fool a young open dog into crossing or running on by the sheep which were set up on an elevated point about three quarters of the way out. The experienced open dogs found the sheep quite readily, but then had to deal with the heavy pull towards the set out pen, followed by more lean on the same side on the way down the fetch. Many teams had to fight to bring the sheep out of a top end swale and back on line to catch the fetch gates with minimal help from the handler who basically couldn't see either the sheep or their dog. It was a mistake for a dog to 
run too deep as the sheep were ready to rumble on down the field and playing catch-up gave away the top of the fetch line. 

The difficulty from the handlers post was not being able to see your dog's final approach to the lift as they disappeared at the top end and your only choice was to blow a stop whistle or hope your dog would see the sheep and come up on them at the right spot. Blind lifts are tough! While I was setting, several dogs ran on by the set point and all the way back to the tree line and around, not having looked up at the right time to see the sheep standing there. This of course was totally unknown to the handler, judge, and the spectators. The waiting game to see where and when your dog would pop up seemed long and arduous. Our friend from overseas Boggy Warmington performed the judging duties and sorted out the winning runs. 

As always, the 4H catered dinner in the back yard was wonderful, and everyone ate too much. 
The mashed potatoes and gravy was certainly a hit, I witnessed several handlers going back for 
more! I saved room for dessert! 

All in all, a lovely trial and I look forward to many more in the seasons to come. Thanks to Victoria Lamont, John Straube, Viki Kidd, and their support workers for providing us with a challenging fun trial.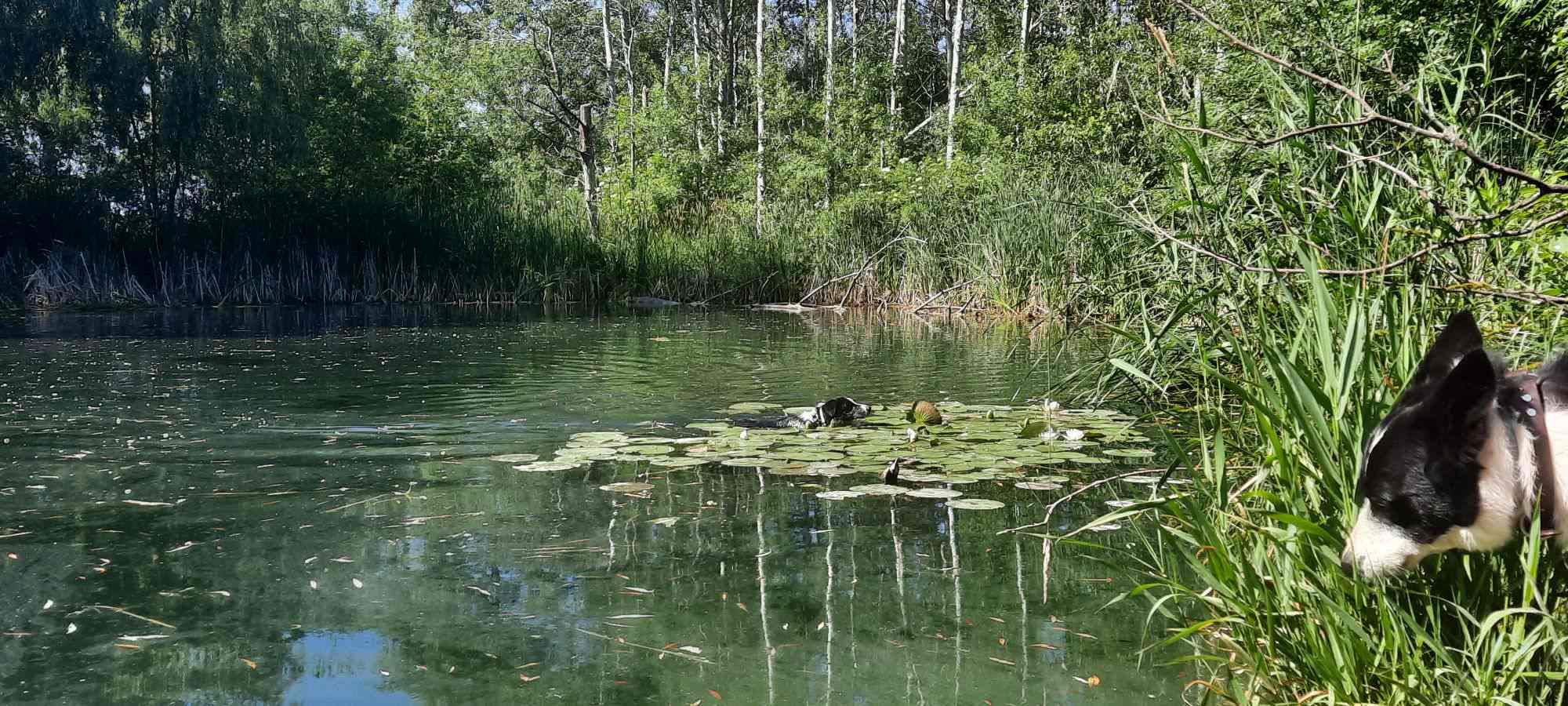 Baz sneaking up on Bud in Handy Dog pond.
Photo by Carol Guy