At the 2022 Annual General Meeting three Honourary Members were inducted into the club. These Members were recognized for their outstanding long-time contribution to the sheepdog world in general and the Ontario Border Collie Club in particular.  
This article introduces our new members to one of these exceptional members. 
Lorna Savage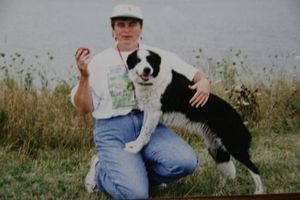 I purchased my first Border Collie Spin from Ivan Weir as a puppy in the summer of 1991. I got started in training with JP Lalonde of Sydenham, ON and after a month of training at 13 months old and only knowing how to wear and stop with some basic flanking, I was coerced by JP into set out for the open at the Navin SDT. Reluctantly we did it but I was shaking in my boots but it went off without a hitch, thank goodness. That was 1992 and in the fall we attempted out first trial, well not much to say about it. LOL  
In 1993 I was full-fledged into my novice year and loved traveling and meeting handlers and watching the open dogs, just amazing. It was a very successful year for a novice - OBCC Novice Champion, Pennsylvania Novice Champion - always placing as first or second.  
1994 we started our Pro Novice year and did a few trials, notably a successful run off at Hop Bottom SDT with Vergil Holland and Mike Canady. I laughingly remember hearing Mike say to Vergil "who do you think won?" and Vergil's reply "That girl" LOL. We did a few more good PN runs, then went to Mike Canady's trial and won the PN so went into Ranch and won that too. So we came home and decided okay, just go for it and jump to Open.  
First open run was Sheep Focus at the Napanee Fairgrounds and we placed first. By then I was addicted to the game. I bred Spin and kept a red female pup who turned out to be the most stubborn, hard headed dog I had ever seen and though we made it to open it was always hard and stressful to run her. She was the first dog I ever sold and it was a hard thing to do.  
Next came Dot - her purchase price turned out to be the exact amount I won with Spin at a Sheep Focus trial in Markham. Ivan was there and had said I have a pup for you…I really hesitated but turned out one of the best things I ever did. From a very shy tiny pup she went on to be a great beautiful open dog, small but tough. She was Spin's half sister and she made me fall in love with prick ears… Dot became well known and we had a great many successes in her career.  
From then to now I have had 17 Border Collies not to mention a few litters. Ten of those dogs I trained up and competed in Open, two I competed successfully in ProNovice but I just did not think would be competitive in Open (they spend their life with me). Two I sold on as not compatible with me, 2 passed on and one I currently have in training as a year old. 
I have had some great dogs, and I actually consider myself blessed with the dogs I have owned. Most of these dogs have passed on now but Tyler, with whom I have gone the furthest, is still demanding to be with the sheep at over 14. Dogs people will remember: Spin, Dot, Twist, Spur, Brock, Trace, Zoe, Kaylee, Ace, Spy.  
Through those years I have been a member of:  
OBCC as secretary/treasurer for many years LOL, when the membership information was a little black book with names and addresses, and going to meetings meant toting boxes and scribbling down minutes hoping not to miss anything. I also spent many years off and on the Trials Committee and am currently on the L & D Committee  
CBCA from the start as a lifetime member, served on the Board for a number of years as a director, and as President  
NEBCA - member, once on the Trials Committee  
USBCA - member  
At the end of 2018 I quit competing in Open. I lost most of my ability to whistle with a medical problem. I guess not having trials going through our Covid years helped a bit to get over that and I also stayed with the trials doing some set out with Ace. But now maybe I will try at least in PN and some Nursery trials with my young dog Jackson, a Teagan / Bud son, to see how it goes. 
Over the span of years, I traveled to British Columbia, Kentucky, Tennessee, Oklahoma, Virginia and I think every state in the North East and of course all over Ontario and attended 8 National Finals. 
Some accomplishments were:  
OBCC Novice Champion  
OBCC Pro Novice Reserve multi 
OBCC Open Champion  
OBCC Reserve Open Champion  
CBCA Nursery Champion  
Highest Pointed Dog in the USBCHA obtaining an invite to Soldier Hollow  
Double Lift Kentucky Blue Grass  
Double Lift Kingston Sheep Dog Trials multi 
NEBCA Fall Foliage Champion multi 
Shepherd's Crook Open Champion  
Heritage Village Open Champion  
Judged various trials since 2007 
What makes me the proudest is the fact that every one of my dogs was raised from a puppy or bred by me and trained by me. That is what gives me a feeling of accomplishment.