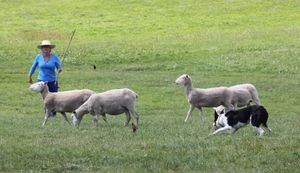 On September 22, 1984, the Ontario Border Collie Club was formed near King City, Ontario. An enthusiastic group had gathered for a trial near Winchmore farm, and they sat down after supper to draw up the aims and objectives of the new club. 
The primary objective of the club is to promote the traditional herding ability of the Border Collie by holding trials and training clinics. The club also encourages obedience and other non-traditional uses of the dog. The club members are farm people and Border Collie owner's with a high regard for the working Border Collie. OBCC wants to maintain the dog's natural working instinct. 
If you have an interest in working dogs on stock, or are interested in being an informed spectator at sheep dog trials, please fill visit our Membership page.