Congratulations to our 2022 champions! 
OPEN Champion  
KEVAN GRETTON and BUD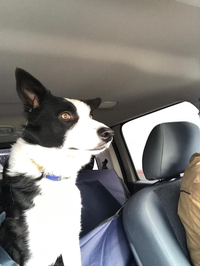 I purchased Bud from Michael Gallagher as a 18 month old started dog. 

He is a Hutchinson's Sweep son out of a bitch that has J P McGee's Seth and Gallagher's Cap in her pedigree . He was quite timid when he first arrived; not being used to crowds or tents but has settled to be my "go to" dog on the farm, a real pleasure to trial with and a great companion. 

Thanks to all the trial hosts and mentors from the OBCC.
OPEN Reserve Champion  
TRACY HINTON and DOY TYE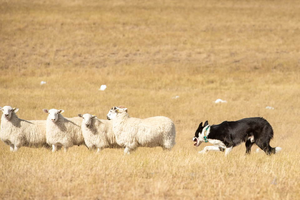 Tye is from Barry Breemersch.  His dam is welsh bred IMP. Zoe who goes back to Aled Owen's Llangwm Cap and his sire by then Scott Glen's IMP. Taff.   Michael Gallagher's lines bred to McCloskey's Sweep.    He turned 3 in October. 
Tye is sensible, reliable, and good with his sheep.   He came along quickly and because of that I had to keep remembering that he was a youngster.  This past year has been all about giving him experience and confidence.  He did not disappoint.  I am thrilled with the dog that he is becoming.  Looking forward to a great partnership for years to come.
*Photo courtesy of Alanna Leach

PRO NOVICE Champion  
HILARY FLOWER and SCOTIA DIASY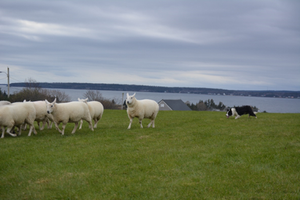 This little lady is home bred from four generations of my breeding on the dams side. "Scotia Sioux", Daisy's mother goes back to "Kinloch Zayn" and World Champion Michael Shears "Bob. The sire is a bred by Wendy Schmaltz "CWS Mike", a local farm dog working sheep and cattle. He goes back to a lot of good lines including Wendy's  "Ky" and Peter Gonnets  "Bob" 
I introduced Daisy to sheep at 5 months just to see if she had any interest...Oh yeah, she did! 
Daisy didn't get off to a good start, she was a bit of a wild child! She wasn't very polite to the sheep, she was growling and lunging on the line. Normally, I would put a pup like this away for a few months after the initial introduction to sheep, but this one was a little different. She was tough, took correction and she REALLY wanted to work. If I didn't give her a job she was going to create one and go work for herself. Not good. 
She was confident and was showing a lot of talent so I made her my winter project, if I saw any stress signs I was going to put her away until spring.  I worked her in a small paddock until she realized I was part of the game and she should be a little nicer to her sheep, then graduated to bigger spaces. She was a natural out runner with nice flanks. She was coming along really nicely until about 10 months when she decided that grabbing wool and trying to pull a sheep down was way more fun than playing in with me! I probably went a little too far, too soon. So, back to the paddock to explain that this was not a good thing to do! This made me aware that this may surface on the trial field and I should not let her get ahead of me or get too relaxed. 
Also, she decided "that'll do" meant…. "I don't want to come off sheep so I will go off contact and counter balance so you can't catch me. Lie down, what's that?!" 
I put her line back on and put the sheep in a pen in a corner to catch her for a few sessions. Then she decided "off balance" was not a good thing and would not take any off balance for fear of losing her sheep. So I put sheep in a pen and pretty much lunged her around the outside of the pen until she gave in and became flexible. When I let the sheep out of the pen, she had a better understanding of what I was asking of her and was willing to take her flanks.  She kept me on my toes that is for sure! 
Sheep like her, she is very direct, the sheep do not seem to question her. I don't see much tension in her, she may develop a little eye, as her mother has quite a bit. 
She is a good listener, not just on the sheep, but in life. She wants to please. 
I logged the times spent training her from day one, which I had never done before when starting a pup. I also videotaped the good (and the bad) when I had someone to video.  I plan to take small pieces of the videos to make a "Start to Trial" video of Daisy and add the training session times for my interest. 
Daisy being crowned 2022 OBCC Pro Novice Champion was a big surprise to me as she didn't start trialing until late August. And I didn't trial her to be competitive, I just wanted put some miles on her, to school her and keep her listening to me. To have control - as she was a very young dog. 
My training for 2023 is to smooth Daisy out, last season I ran a lot of "stop and go" with her to make sure she didn't get ahead of me. So keeping her on her feet and some pace is my goal for this year.  She is a very fun little dog!

PRO NOVICE Reserve Champion  
REBECCA LAWRENCE and HAZEL HILL MEABH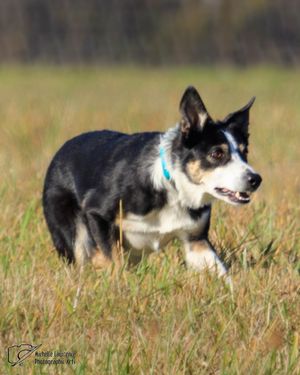 Hazel Hill Méabh is out of Stacey Rember's Hawkeye and her previous farm dog, Kate (a littermate of Louise's Tug whom I've always liked). There were 2 females available in the litter, and Stacey thought I would like the tri better. We went to visit them to make the final decision; I cuddled the black & white girl, thinking she would be my choice. When I picked up the wee little tri, out came the cooing of "Aren't you a little Méabh?" Dang it, if you instantly name the puppy, you're going to end up with the puppy! She bonded strongly with me as I injured myself a few days after she came home and was my couch companion during the months of recovery. 

Like for all of us, Covid threw a spanner into the works when it came time to start training Méabh in 2020. Since I had no access to sheep during our various lockdowns, Tracy kindly took her in for several days in 2020 to get Méabh started and spent even more time with her in 2021 to work on further progression and run her in several trials for experience. Under Tracy's tutelage/handling, she earned 6th  in the Nursery class in the CBCA Championship in 2021 (despite chomping on the Mountie's bottom in her first run!) Méabh is very different dog to run than Key: medium eyed, square flanks and stays further off her sheep. She has taught me a lot of what I want in a dog, how to overcome different challenges a different kind of dog presents. Too bad you can pick out the traits you like the best from each dog! 
A heartfelt thank you to Tracy Hinton for all her work and effort training Méabh and me! Thank you to John, Cynthia, Kevan, Viki, Louise, Jane, Tara and Carol for your lessons, wisdom and sheep time!
NOVICE NOVICE Champion  
BETH HARRIS and FINN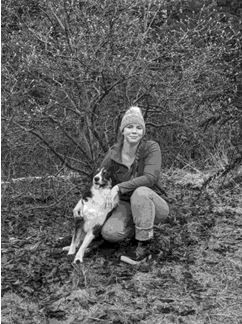 Finn and I have been together since I brought him home as an 8 week old pup almost nine years ago. He is by Catherine Laxton's EF- Tweed and out of Brian Atkinson's Rosie. I wouldn't say that Finn showed signs of great promise. He was the antisocial pup who sat on my boot. Naturally, as a romantic, I decided that he had picked me. In the beginning it didn't always go well. I thought I had a good understanding of sheep, but I did not know how to work with a dog. It resulted in a lot of frustration. This of course led to Finn immediately shutting down. After a bit of self-reflection I realized that if I was steady, he would be too. Over the years we attended the odd clinic, but mostly learned things the hard way. As we moved more sheep to more challenging places, we became a team. Eventually I started to make more work for us (on purpose.) So after perusing the OBCC site and reading the rulebook, I decided to enter our first trial. Since I had no idea what I was walking into, I thought that it would be prudent to take a lesson two days before the trial. Shockingly, it did not go well… Sue was gentle, but gave me fair warning. After our talks I promptly booked a hotel room so that at least when I embarrassed myself, I could cry in the shower. Despite my reservations, we went. I guess the chores paid off, because we held our own. I am so thankful to everyone who shared their experience, knowledge, and wine with me. Most of all, I am thankful for my good boy.
NOVICE NOVICE Reserve Champion  
DANIEL TURCOTTE and DENVER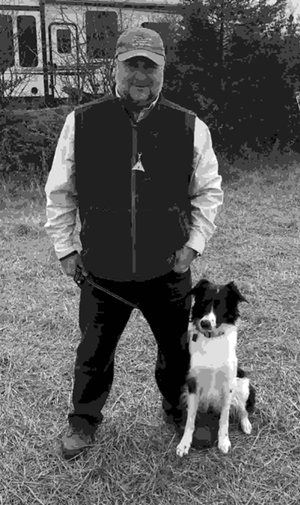 The year 2022 has been a great start for us in the world of clinics and competitions of Herding in Canada and United States.  
We operate a sheep farm and we have several pastures and feedlots. We acquired Denver from Amanda Milliken in August 2020. Those parents are none other than Dar and Carl. I was on a long waiting list and we got the last pick from the litter. As soon as he arrived at the farm, very young, Denver showed us his talent for herding. With the advice of Amanda and several handlers, we have established a tailor-made training program in order to develop all the genetic potential that he possesses. He has an exemplary balance an excellent gathering quality. Denver never loses control of is sheep.   
The year 2022 was a full year of competitions across the Eastern United States and Ontario in Novice-Novice. Very nice experiences and only good encounters. Denver got off to a good start at his first competition at the Bluegrass trial in Kentucky. We were at our first trial and we got only good results.   
I really enjoy working with Denver when the going gets tough. With more than 15 trials this year, Denver has always brought the sheep back to the Pen and has each competition finished in the top 10. He amassed several first and second positions. When the sheep are difficult and there are several abandonments, Denver is there, always ready to take up the challenge. Quick and precise with my whistle commands, he moves gracefully and the sheep had better obey as long as I don't make mistakes. He likes daily training and by the way it keeps me in shape. 
In Indian River, the pressure was very strong at the exhaust and Denver had to deal with sheep who wanted to flee in all directions and he knew how to bring the herd back to us as far as the Pen.    
In Jasper Ontario, the Kitley Corners Farm trial organizers asked me if I could do Nursery with Denver. What a great opportunity to explore my dog's talents. To my great surprise Denver was able to complete the run and in addition he got the sheep into the pen within the prescribed time. It is at this precise moment that I said to myself that Denver has the talent to go very far.    
What I like, above all, is when certain competitors call me to tell me how much they like to see the work and the beauty of his execution when he handles the herd. Denver wants to please me at all times and that's why we make a very good team. He follows me wherever I go.  Difficult to part with my faithful companion.  Denver is only two years old and it will certainly continue to surprise us. What great years we still have ahead of us to climb the ladder before joining our greatest Canadians handlers.     
Denver and I did all the clinics organized by the OBCC and this allowed us to learn from the best. This led us to the results of the 2022 reserve champion in Novice for the OBCC. 
Now it's time for us to take the next step to pro-novice and continue our apprenticeship with beautiful people who are passionate about herding.   
Thank you to all the members and the team of the OBCC who allow us to practice herding with our working dogs.