At the 2022 Annual General Meeting three Honourary Members were inducted into the club. These Members were recognized for their outstanding long-time contribution to the sheepdog world in general and the Ontario Border Collie Club in particular.  
This article originally appeared in the 2017 OBCC newsletter and introduces our new members to one of these exceptional members. 
Bruce Smart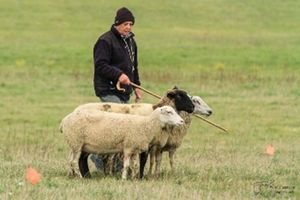 Photo by Michelle Lawrence
In the 1980's due to a heavy tax reassessment, we were forced to sell our farm and herd of Herefords, so we downsized to sheep and a smaller acreage We later moved to our present 50 acres but, as a concession to maturity, we no longer farm it ourselves. All that to explain why we acquired sheep and, of course, why we needed a sheepdog.  
I knew very little about dogs but in 1987 I bought Skye as a pup from Alex McKinven in North Hatley.I wish I could say that we were great team right from the start. Unfortunately, that was not the case.  A combination of my ignorance and Skye's outrun meant that we were usually listed as "also rans". I can still remember her outrun at Evelyn Neuendorf's trial south of Ottawa. She left my feet with conviction well out to the away side, then her bad habit kicked in and at 9 o'clock she stopped and that was the end of the outrun in her opinion. Much later I gave Skye away and she died on the road. Her regretful owners donated the Skye Memorial Trophy for the top Novice dog each year.  
Nowadays quite a few people offer training services, which might explain why (in my opinion) the standard of trialing has improved so much when compared to thirty years ago. I first learnt training techniques from books and no doubt they are still a good source of information, particularly when supplemented by on the field coaching.  
Jump forward 10 years, and in 1997 I bred Dyna to Sally Lacy's Tru and the result was Dolly. I also bought a pup from John Atkinson named Peg.  That pair of dogs carried me through the turn of the century.  They were always a threat in open although they differed completely in style.  Dolly was wise and steady. Peg always responded to commands but was so fast that she was hard to keep up with.  I often left the field exhausted.  Those two dogs took me to Finals in Tulsa, Sturgis, Belle Grove, and to the world trial in Ireland.  
Our sport would not exist without a lot of work by those who organize trials.  I had a brief fling at that myself, so I speak from experience. The regional and national organizations also need support.  Again, I speak from experience as a past director of USBCHA, and ex-president of ABCA and CBCA.  
I no longer breed dogs or raise and train pups - that maturity thing again -- but I have managed to acquire some good dogs.  From Mike Canaday I bought Ken.  Hub Holmes sold me Link, and my present open competitor Hemp came from Kevin Evans in Wales.  That is the beauty of this sport. As long as your legs can carry you to the post and you have breath enough to whistle, you can keep going.