At the 2022 Annual General Meeting three Honourary Members were inducted into the club. These Members were recognized for their outstanding long-time contribution to the sheepdog world in general and the Ontario Border Collie Club in particular.  
This article introduces our new members to one of these exceptional members.
Michelle Lawrence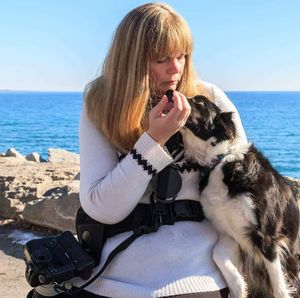 Photo by Rebecca Lawrence
My great-grandparents had sheep on their family farm in the Elginburg area; (just north of Kingston); my great-uncle continued raising sheep on that farm until he passed away in 2000.  Visiting farming relatives and seeing sheep and other livestock are lifelong memories for me.  My aunt (whose farm was only a few miles away from the family homestead) also was a sheep farmer for several decades.  Through her, we were introduced to the border collie breed, and I fell in love with them for their athleticism, intelligence and working ability.  I am fascinated by seeing a good farm dog working in concert with the shepherd in handling stock. 
At my aunt's urging, we went to our first trial at Amanda Millken's farm in the late 1980's and became hooked on watching trials.  From then on, our summer family vacations were planned around the Kingston Sheep Dog Trials.  When we could, we also would go see trials at Amanda's and J.P. Lalonde's farms. 
We originally became members of the OBCC in the early 1990's, after getting our first border collie from Les Brown (who used to do shearing demonstrations at Kingston Sheep Dog Trials). Her bloodlines led back to Alf Kyme's breeding.  Our next three border collies all came from Ivan Weir, who was an active handler, trainer and trialer in Canada and the US. 
City life and job obligations meant that we couldn't be more actively involved in the sheepdog world other than being avid spectators who took the occasional photo or video. In 2013, when my husband, Bruce, gifted me a new camera for my birthday, I couldn't help but turn my lenses to the dogs. 
Life circumstances changed by the time border collie number five entered our lives.  Our daughter wanted to learn to handle and trial a sheep dog, so I suggested she try learning with our pet Key (a 1 ½ year old young bitch we got from Lorna Savage).  Trials became an even bigger part of our family life. A few more border collies were welcomed into our home, along with a truck and trailer, more cameras, and lenses.  It is a slippery slope. 
I got involved with the OBCC newsletter when I was approached by the editors for a cover photo.  This led to pictorial essays, layout designing and eventually being editor for the last three of my seven-year commitment. 
During this time, I also got involved in other projects in the sheepdog world: 
Redesign of the OBCC brochure 
Cleaned up degraded digital logos for OBCC and CBCA 
2016 Canadian Championship - designer of posters, other printed materials, editor and designer of programme 
2016 produced calendar from my own photos of border collies (donated profit portion from sales made at OBCC sales table at Kingston Sheep Dog Trials) 
2017 USBCHA Finals (VA) - graphic designer of logo, editor and designer full program (including ads), designer of banners, promotional materials, badges 
Graphic designer logo USBCHA Sheepdog Trial Points website 
2021 USBCHA Finals (VA) Program: Designer program cover, Edgeworth Ad, homage to prior posters page 
Covid restrictions prevented me from getting out to see trials for a few years, so I haven't been behind the camera lens at them.  When I did get out last year, it was exciting to see so many new faces along with the usual suspects that have given me so many hours of enjoyment over the years.