A fun perspective from some of the novice handlers who were at the November 12, 2021 Butternut Creek trial. All comments from the sheepdog's point of view!
Genevieve Pronovost's Nora came from Quebec City to participate and had this to say:
November 12, 2021 will be etched in my memory, because I participated in my first Novice-Novice trial at Butternut Creek. Despite the cold, the rain and the mud, nothing was going to stop me, I was very anxious to go on the trial field of the big ones and to show my handler that I was able to do a good job! I was a little nervous when I got to the post, but managed to control myself well even though I was shaking with excitement. When I heard my command "away" I went like an arrow and it was the best 5 minutes of my 2021 season.
I was very impressed by the beautiful large field, the warm atmosphere and the sheep which were perfect for me, fast and not too confrontational. I loved running in the water and the mud, my human mom was less fond of seeing the condition of the car inside at the end of the day hehehe.
Even though it was my first trial, I think I made my handler very proud, I even received 2 beautiful ribbons for my work! The only thing I liked less was when she hung them around my neck when I got home and asked me to be quiet for the photo. Do your parents do this with you too?
I can't wait to see you again in 2022!
Tania Costa's Ben had this to say about his day out at Butternut Creek:
-Mom, I don't want to lie down the sheep are running banshees
-why does my Mom yell "lie down" so much, it hurts my ears!
-I am loving this mud, I love getting really dirty
-Why are we getting up so darn early in the rain
-I love my girlfriends Journey and Fen, we like to play a lot
-I wish my Mom would learn which flanks I need so don't have to figure it out (cause I am smarter than her)
-Why does my mom care about winning, I just love playing sheep and learning along the way
Mary Dedom's Sadie had a few questions too!
This a very different trial. My friend and frisbee playmate Alfa is here watching. He's never come before. What's up?   Is there going to be a frisbee flying out on the way to the sheep? I love my  handler Mary but when he's around, Alfa takes precedence.
Sheila Deane's dogs Zola and Jill shared this exchange:
Zola: How did your run go Jill dear?
Jill: I think it was perfect Zola! I raced down the field and got those sheep gathered up and although I had to circle them a few times I managed to keep them all together with that tall man and his dog.  
Zola: Uh, oh. Um, where was Sheila during all this?
Jill: Well at the start she was at the other end of the field shouting something, but eventually she ran down and got in on the action too. We were brilliant and marched off the field in triumph! Do you think we'll get a ribbon?
Zola: Of course dear Jill, and if not, the judge is blind.
Pamela Hall's Fen shows remarkable wisdom in her sum-up:
- it was a very nasty set morning to be out competing, but we weren't bred to be fair weather herders.
- the competition teams that came from Quebec were tough, so I really had to pick up my game.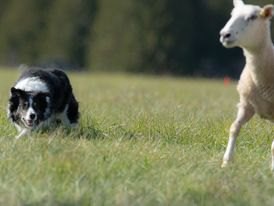 *Photo Credit François Leblanc