Two OBCC members submitted reports from the Handy Dog Summer Trial, July 9 and 10, 2022.
By Daniel Turcotte
I had the privilege of participating in the Herding competition organized by the OBCC (editor's note: Victoria Lamont and Viki Kidd hosted and organized the trial, OBCC sanctioned and supported it) by an extraordinarily dedicated team and which went to perfection. This experienced team orchestrated everything so that all the handlers could participate in a state of trust with the dogs and the sheep.
What about the volunteer participants who demonstrated exceptional mutual aid. Everyone was able to bring their personal touch so that the activity went smoothly. The owners have thought of all the little details for all participants. The pot luck was fantastic which added a remarkable touch to the superb day on Saturday. This evening allowed us to fraternize with our colleagues in a festive atmosphere.  
The fact of creating links with the participants, makes us know and appreciate this sport while taking valuable advice from the most experienced in this field. The small details were taken into account and the choice of rewards was of very good quality. Personally I was very satisfied and I thank the OBCC greatly for allowing Denver and me to develop in herding and to cross, year after year, the stages to go even further.  
In closing, I would like to participate more in the wonderful meetings with fans of a magnificent country that fills us with beautiful farms with passionate people for one of the most rewarding sports to practice with our precious work companions, the herding dog.
By Sheila McMillan
On July 9th and 10th, 2022 my dog Hutch and I attended the Handy Dog Summer Sheep Dog Trial. Hutch is 4 years old and has been with me since October 2020. He had prior sheep herding training while living on a farm in Utah. I had no prior sheep herding training but spent many an hour watching sheep herding. Unfortunately for me being a spectator did not translate into being able to give a border collie commands that he takes seriously! We live in the city and our sheep experience and training comes from hours spent with Viki Kidd, who patiently explains and re-explains what I need to learn. The more that I come to understand, the more I realize how little I know. Viki has told me that when I have had 10 years and 3 dogs, it will be easier…
Hutch and I participated in the Novice/Novice Group. My friends have appropriately named it the "Nervous/Nervous" group. I did lots of deep breathing, re-focussing and visualizing of Hutch stopping when I shout "stand!". Standing at a city street corner when I shout "stand" is not really very difficult when compared to having to stand when the sheep are running. We received a great deal of support from fellow handlers who shared their tips and encouragement.
Saturday's run was exceptional for Hutch and me as we successfully completed the course and penned our sheep. It was amazing to me! We were finally working together! Hutch followed "Stand!" and each command after. It was very exciting. On Sunday, I did not have the confidence and firmness in my commands and he did not listen but took over. Afterwards, my spouse and other handlers provided emotional support along with encouragement to continue trying. It certainly is a bumpy road with lots of ups and downs.
Both Saturday and Sunday were ideal weather days, being sunny and not extremely hot. The field was nicely cut and everything was set up when we arrived. Viki Kidd's sheep were in their places and participated well on both days. Sometimes they seemed happy to go into the pen, other times they just did not want to stay together. Victoria Lamont and the volunteer team that did all the set up are truly to be commended for their preparation and for ensuring that everything worked smoothly and efficiently. Volunteers for the sheep management and scribing did their tasks very well. Our Judge, Lorna Savage, was very professional in her duties and helpful with advice. The days started promptly at 7:00 am as planned. When things needed changing between Trial groups, volunteers stepped in. When a shade tent needed to be put up, handlers jumped in and completed this quickly. It seemed like everyone came with a plan to pitch in and ensure the days were great, and they were! On Saturday night we had a wonderful Potluck dinner with main course prepared by John Staube, who is to be commended for having lots of burgers and sausages ready for the crowd. As usual the food was great with everyone bringing lots to share.
It's nice to be a member of OBCC. The group is friendly and supportive. The handlers attending Handy Dog for this Trial came from Michigan, New York, Quebec and Ontario. It was a great opportunity to meet new people and talk about their experiences with sheep herding. Trial days are competitive but jovial. Everyone wants to do their best and is encouraging of others to do their best, although it is nice to get a good score or even win! I learned a lot at the Trial and I have a lot more to learn. I am hoping that Hutch and I have lots more years together to participate in sheep herding.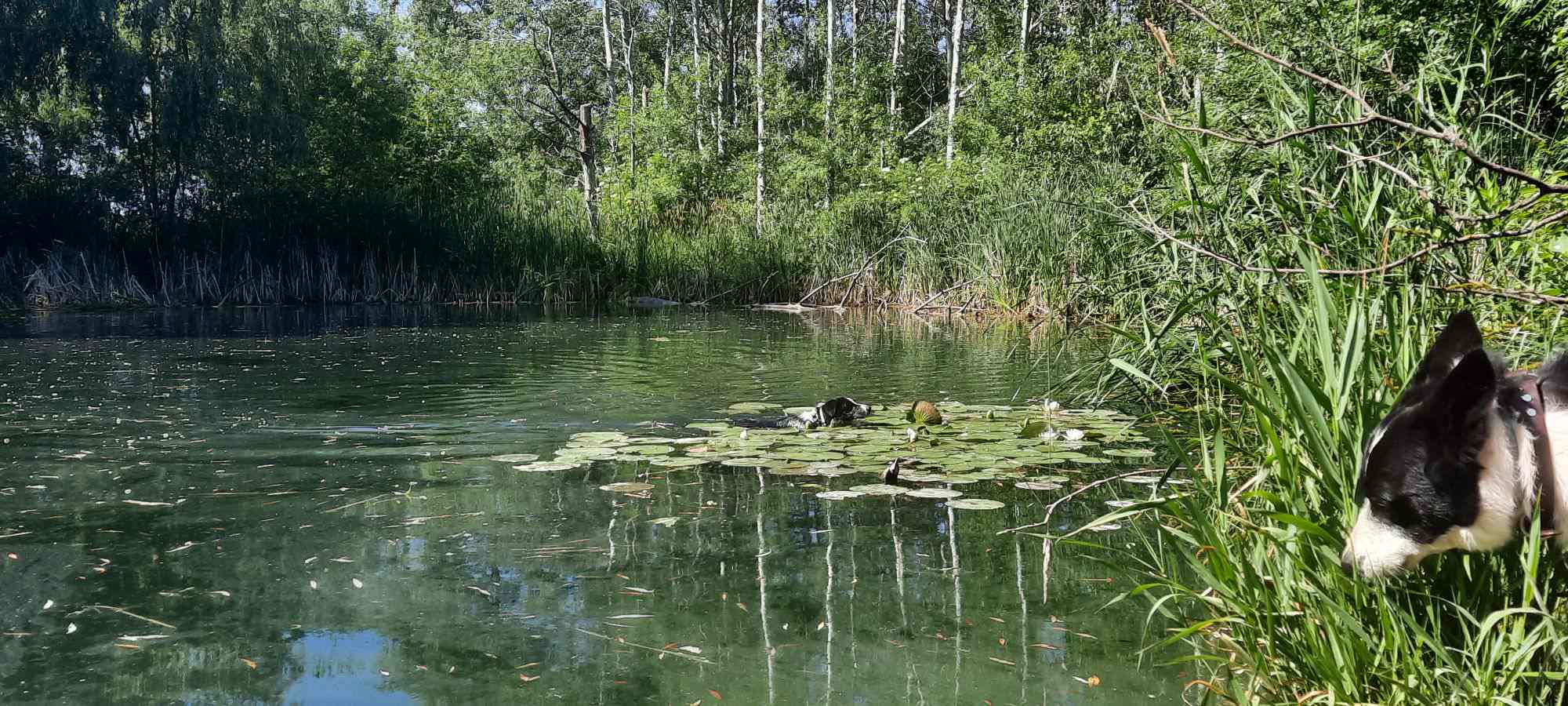 Handy Dog pond - photo credit Carol Guy