By Florentine Maathuis
When you go to Jimmie's Farm, you know you're in for an eventful day. It all starts innocently with the beautiful drive down Hart Gravel Road, which in the fall is a meandering ride surrounded by all possible varieties of yellow, orange and red embracing you like a colorful and cozy blanket, instantly craving everything pumpkin.  
Next on the list of events is the entrance to the farm, which starts with quite a steep downhill ramp. My first ever OBCC trial was at Janet's place and was held the day after the first snowstorm of that year. Most cars, including ours, had not been changed to winter tires yet. In the morning on our way to the trial we actually landed in a ditch, missing a post box by a few inches. I remember many cars having problems with the ramp that year, turning the driveway into a skating rink.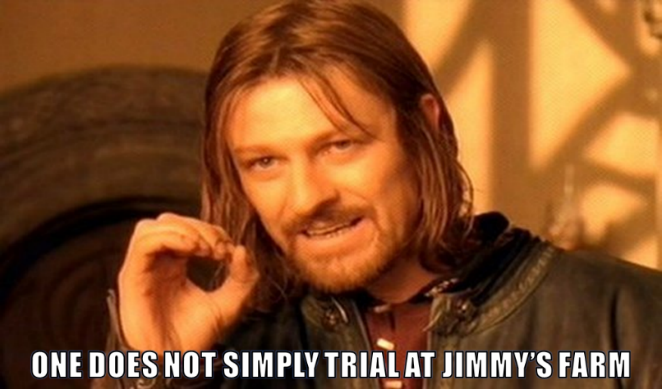 Luckily there wasn't a snowstorm in sight this year and both the driveway and path to the Parking were impeccable, freshly graveled, one less hurdle for the handlers to tackle. Thus far the day was going smoothly.  
But it wouldn't have been Jimmie's Farm trial without some challenge: Mother Nature presented us with a whole day of rain and wind. But Janet's promise to give us an eventful day didn't stop there. She decided the Novice teams were up for an extra challenge and thus included some lambs for us to guide through the course.  
The sheep played fair if the dog played fair, but it being a Novice Day, the handlers' tent did get the occasional visit from a lost lamb. The people and dogs both at the set-out and the exhaust had to work hard to pick up sheep left and right and from the Parking lot.  
Janet truly gave her all. Sick with Bronchitis she was out and about all day in the rain and had to withdraw from next days' trial at Celeste Lacroix' place because of it.  
Thank you, Janet, for organizing a Novice Day, knowing that it contributes to extra stress, but we are all very grateful you did. With 14 Novice runs and 15 pro Novice runs there is a big group eager to get into this sport. Congratulations to Lisa and Robbie for entering their first trial in Novice-Novice and killing it. Well deserved first place!
A Word from Janet: 
"The trial ended up to be a big challenge this year, with me getting very sick with Bronchitis. I had wanted to thank all my helpers at the beginning of the day but ended up having to run off to help coax my reluctant sheep into the set out. I have to thank my biggest helpers--Lorna, and my husband Howard, who had both slaved away fine tuning the course during the week while I was bedridden. And several others stepped up to the plate, notably Joanne Murphy, who volunteered to do the scoring paperwork (before I even asked!), Louise Hadley, who organized the set out, Rebecca Lawrence, who organized the scribes and results paperwork, and Anne Wheatley, who stepped in everywhere she saw a need. Werner was also a great help at set out through the day, braving the wet weather to help keep the packets of sheep coming in a timely manner. I know trial managers often say, 'It couldn't have happened without help'...well this trial would definitely not have happened without help, both before and during the trial. We have a great community of handlers willing to help--definitely a group effort!"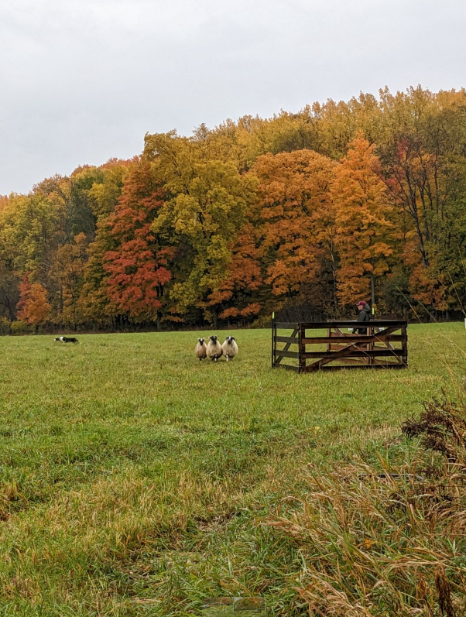 Carol and Bruce at the pen 
*all photos by Florentine Maathuis