By Lynn Johnston 
Sunday dawned crisp and cool but soon turned into another glorious fall day. Mostly sunshine, no harsh wind and perfect herding temperatures. How lucky we were to experience such wonderful fall weather so late in the season. 
The sheep continued to pull hard to the barn/exhaust side. On day 3 of a trial, who can blame them! It almost looked like a few wise ewes had figured out that if they just went in the pen, the dog would leave them alone, but otherwise, they were tough to pen. And the pressure to turn back from the far side of the cross drive stymied many a dog. A truly great learning experience for many a dog and handler.
As with the Shepherds' Crook trial, these novice classes were large. It was wonderful to see a group of new young faces - this will save the sport! The chatter and camaraderie were heartwarming. A great time was had by all.
Handlers' dinner, prepared once again by Sharalea and Movin, was a culinary journey to Greece with a side trip of lamb curry. Delicious!  
Eamon Connell did an excellent job judging - fair and consistent throughout the long day. We thank Cynthia and John for bringing him to us.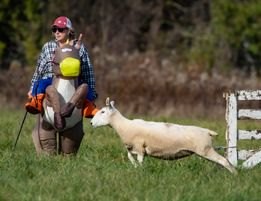 Cynthia made sure we acknowledged Hallowe'en in high fashion, as a number of folks appeared in costume at the lunch break. So fun…Kim Russell even went to the post fully disguised - not sure what the sheep thought of that! 
*Photo credit François Leblanc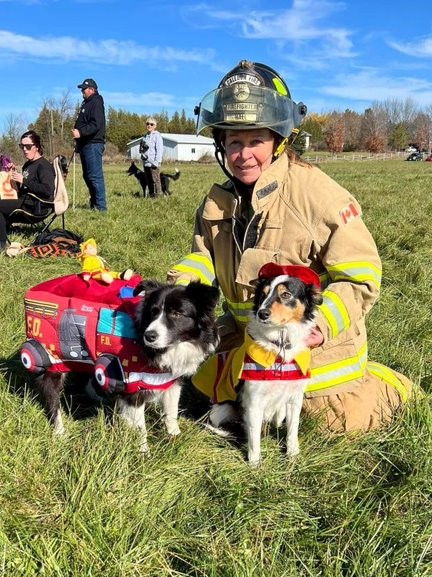 Pamela was awarded best costume - she had a lot of help from Fen and Journey (haha). 
*Photo credit François Leblanc
The top 3 teams in each class were awarded handmade personal items called Forage by Lorelei Lapp. Thanks to Helen Knibb for sourcing those. And thanks to all who worked so tirelessly to make sure this trial ran smoothly from start to finish. It's so much work behind the scenes.
Thanks Cynthia and John!

*Photo credit Anne Wheatley