By Anne Wheatley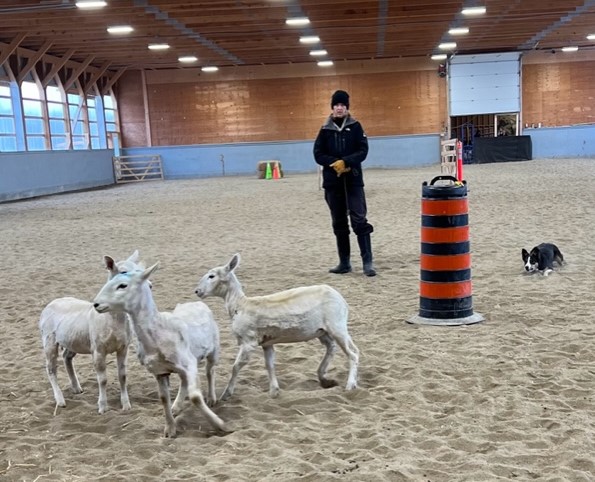 Happiness they say is directly related to expectations, and after the surprise dog working weather we had earlier this winter I must have stupidly expected more, along with the ability to work dogs outside again before spring. But the snow and cold descended after that thaw and it all stayed. I was not happy.  So when Kim Gretton announced on the club fb page that there would be a fun day at a big arena near Fenelon Falls on Feb 19th and again on March 25th I was ready for some happiness.  

Ian Talbot made the arena available. Ian and Kevan Gretton supplied the yearling ewes - light and speedy they were. Kim Adie took entries. A course was set up and each team was given 3 minutes to work the course or do schooling work. Each handler got 2 runs in the morning and one in the afternoon for their entry fee. On Feb 19th I signed up and ran 2 dogs for two entry fees, (Dan and Oak, 3 runs each). On the 25th I added young Rye to the group and ran Dan and Oak and Rye twice each. The hosts were flexible that way. There were probably about 15 handlers there both days.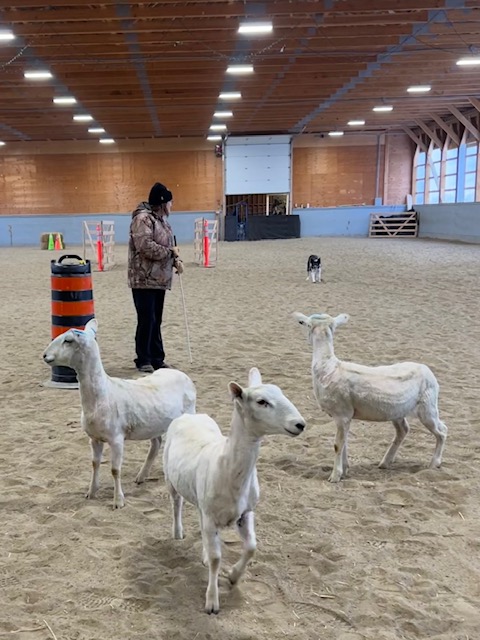 These Arena fun days were less focused on competition than the ones we've attended in the past. In fact I don't even know which team had the best runs on the course. I know that I was mostly focused on schooling my dogs. We did some nice work in the corners, pushing the sheep in when they didn't want to go, going around and pulling them out, pushing them in again - doing small flanks that squirted them out, then encouraging the dogs to cover and catch them. The dogs loved it!

Winter is long and this winter I heard was the darkest in 80 years. These Arena fun days shone some light on my mood. I expected to enjoy them and I did!

Thanks to Ian Talbot, Kim Adie, Kevan and Kim Gretton for their parts in making them happen.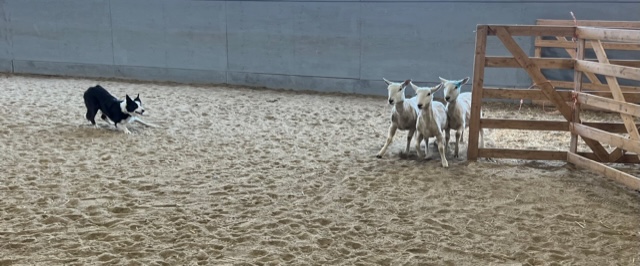 *All photo credit to Anne Wheatley