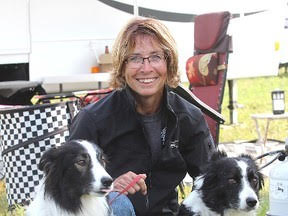 The Learning and Development Committee presented their first OBCC online clinic with Lee Lumb, the 2021 CBCA Champion, in March 2022. 
Here is some feedback from participants:
I found the clinic excellent and great value for the price. Lee is a wonderful presenter. I think we could have spent the full 2 hours on the focus of the 2nd hour and what goes on in the field.  
I found it particularly refreshing that as a judge Lee is looking for the dog showing natural talent, working in partnership with the handler. I learned about the subtleties of the lift, one of the elements I have struggled with.  I want to spend more time trying to work with my dogs rather than trying to control them.
Thanks L&D for a very informative session.
Lynn

Thanks to Lee and everyone who organized the lecture. The main thought I had after listening to Lee was "hope to heck I always get Lee as my Judge".  Lee portrays such a love for the sport, and it is contagious.
Novices usually discover their mistakes at trials and most often don't even know where they went wrong. Lee was able to clarify the rules in simple terms and answer questions many are thinking but don't get the opportunity to ask.  I feel motivated to set goals and can't wait to get started on a new season.  
Thanks Again,
Mary  
Thank you to Lee Lumb and the L&D committee for the judging clinic on March 20th.  I am a novice sheep dog handler and participated in 4 trials last year. It was frightening and thrilling. The clinic allowed me to feel like I was sitting with a judge and learning how a judge looks at the runs. Lee explained the process by which a judge views the dog and the handler.  She described the objectivity using the USBCHA rules as well as how the judge is assessing the dog's ability to work on sheep in a farm situation all while looking at what is happening in the field with the sheep.  Lee had a calm and thoughtful approach when describing the judge's role which set me at ease. Lee described the respect and care that must be provided by the handler towards the dog and the sheep at all times. The need to do the right thing for the animals is foremost. I hope to be able to be calm and thoughtful when I am next at the post.  Lee has further inspired me! Thank you!
Sheila  
Here are links to some resources Lee mentioned: