By Mary Thompson
Let me begin by saying that "setting sheep" for a fellow handler's run is a very important job at any trial.  A well set packet of sheep gives every handler the best chance of a great score and a placement in the ribbons.  Equally important is how they are handled by the pen workers; kind treatment in the pens makes for kind sheep at the set point.
If you get asked to "set out" make sure that you take your best dog to ensure that the task will be done carefully and quietly.  It is not the place to school or teach a young dog how to set.  The entry fees have increased significantly over the years and you want to give every handler the opportunity to begin with a well settled packet of sheep.
It is important that once your dog brings the sheep quietly to, or very near the set out spot, that you flank it out to a position on the strongest draw and it then takes a lie down, and stays put.   This leaves the set out person on the other balance point or draw.  Less dog is more!  Most sheep will stand quietly with you monitoring their heads and most are happy to begin grazing.   If they shift a little or graze quietly step carefully around to prevent too much movement, but leave well enough alone.  Stirring them up with excessive movement or moving your dog too much will only make them want to run as they will feel the increased pressure.  If grain is being used the job will be less demanding but does result in a bump and run type of lift.
Farm sheep will often watch a dog come up on its outrun.  If the dog is correct, they may very well just stand and watch it go by, and once it's at the top the sheep may slowly drift off with or without the dog actually lifting.  Don't interfere, let them drift.  It's the judge's job to discern the correct number of points.  If however the dog is correct, but the sheep are used to leaving early and want to run off too early, you might need to flank your dog down and out, and or step in yourself to slow their movement down the field.  Do not jump in front or put your dog in front.  Again, it's the judge's job to determine what has happened and take points accordingly.
The worse scenario is when the out running dog is totally wrong; it crosses, comes in beneath or straight across from the side and pushes the sheep off to the back, or sideways, or the dog runs way too deep into the next field and you are left standing holding the packet.  Do nothing, it's up to the judge to make a decision on what the dog has done wrong, you are only there to set and hold the sheep as quietly as you can.  If a dog fails to find/lift the set packet and they have not been disturbed, you can just continue to hold that group unless the judge decides otherwise.  If they have been disturbed by the dog getting lost, put them back and bring out a new group.  The one other duty you have is to make sure that there are no lame or sick sheep in the packet.  If you determine that there is an unhealthy or lame one, put it back and ask the pen workers to mark it and place it in the discard pen.  The one other rule that I uphold is that if after numerous careful attempts, I cannot set a particular ewe or packet; I will put them back and ask for a better group.   Fairness to every competitor is important.  Be good, be true.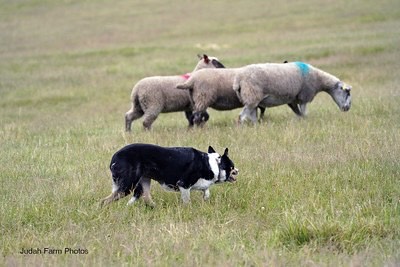 Mary Thompson's Mia settling the sheep for setout.