By Beth Harris
 
The first event of the Learn to Trial Better Series was hosted at Cloudberry Farm near Roseneath, Ontario. The weather was perfect - sun blazing with a nice breeze cutting through the heat. The field was long and sloping, slightly downhill, with a pair of trees forming a natural set of panels. The sheep were a nice group of yearlings who were more forgiving than anticipated.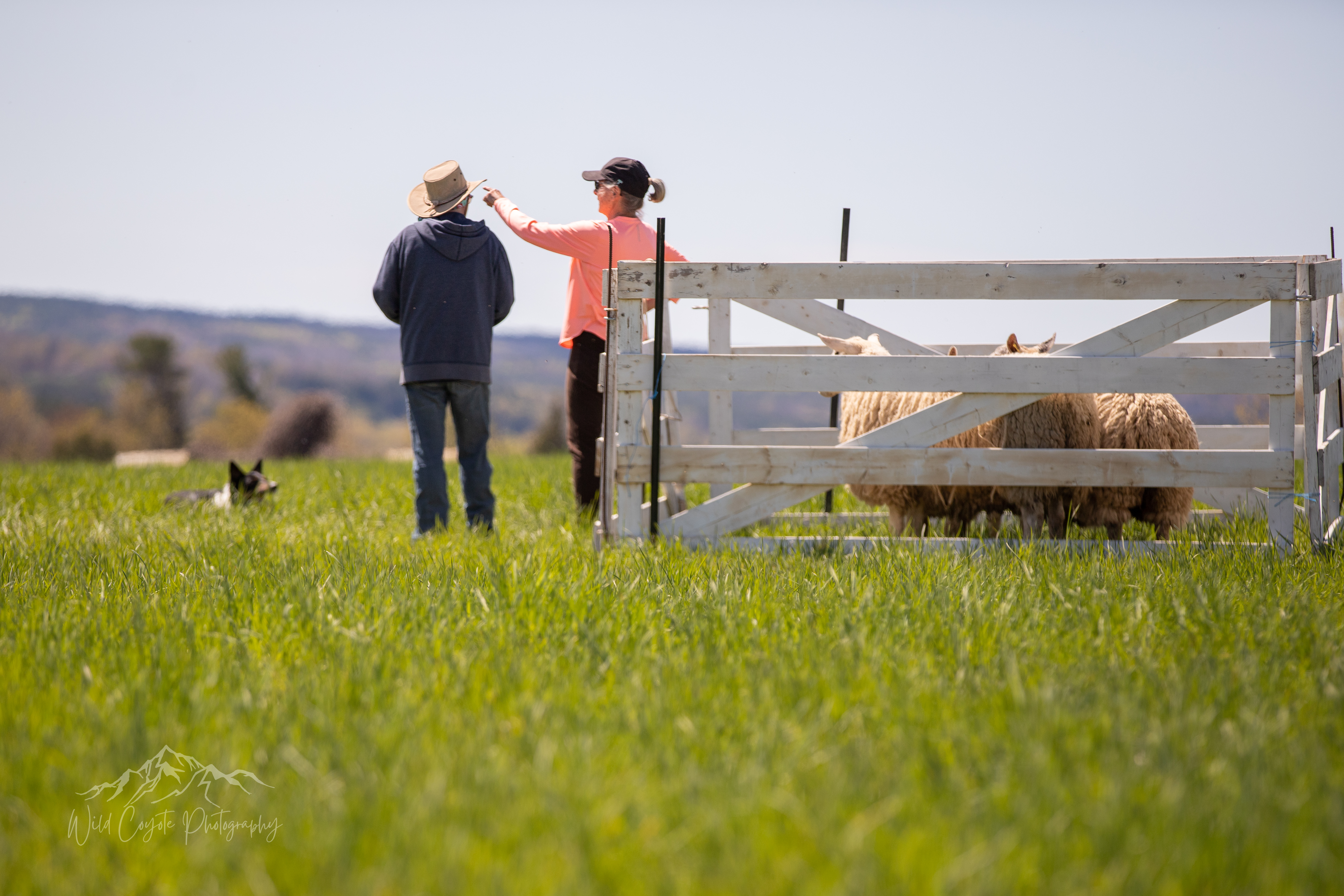 The second day of the clinic was held at the lovely Piperdown Farm north of Belleville. Although rain was forecast, it held off long enough for us to enjoy our day. This field presented us with new challenges - a shorter field, but uphill and with a fair amount of draw. The sheep were a handsome flock of Scottish Blackface, who were good to us (as long as our dogs were good to them). 
Each day had the same format. To start our mornings off, we began with a round of introductions. Each novice was paired with a mentor, and was allotted 15 minutes to either work through a course or address an ongoing training issue. I think it is fair to say that all of us learned a lot in that short period of time. For me it was the following: watch your sheep, trust your dog, and move your arse.  We watched and learned from each other's sessions, and had the opportunity to learn even more by listening to the group of very experienced (and successful) handlers around us.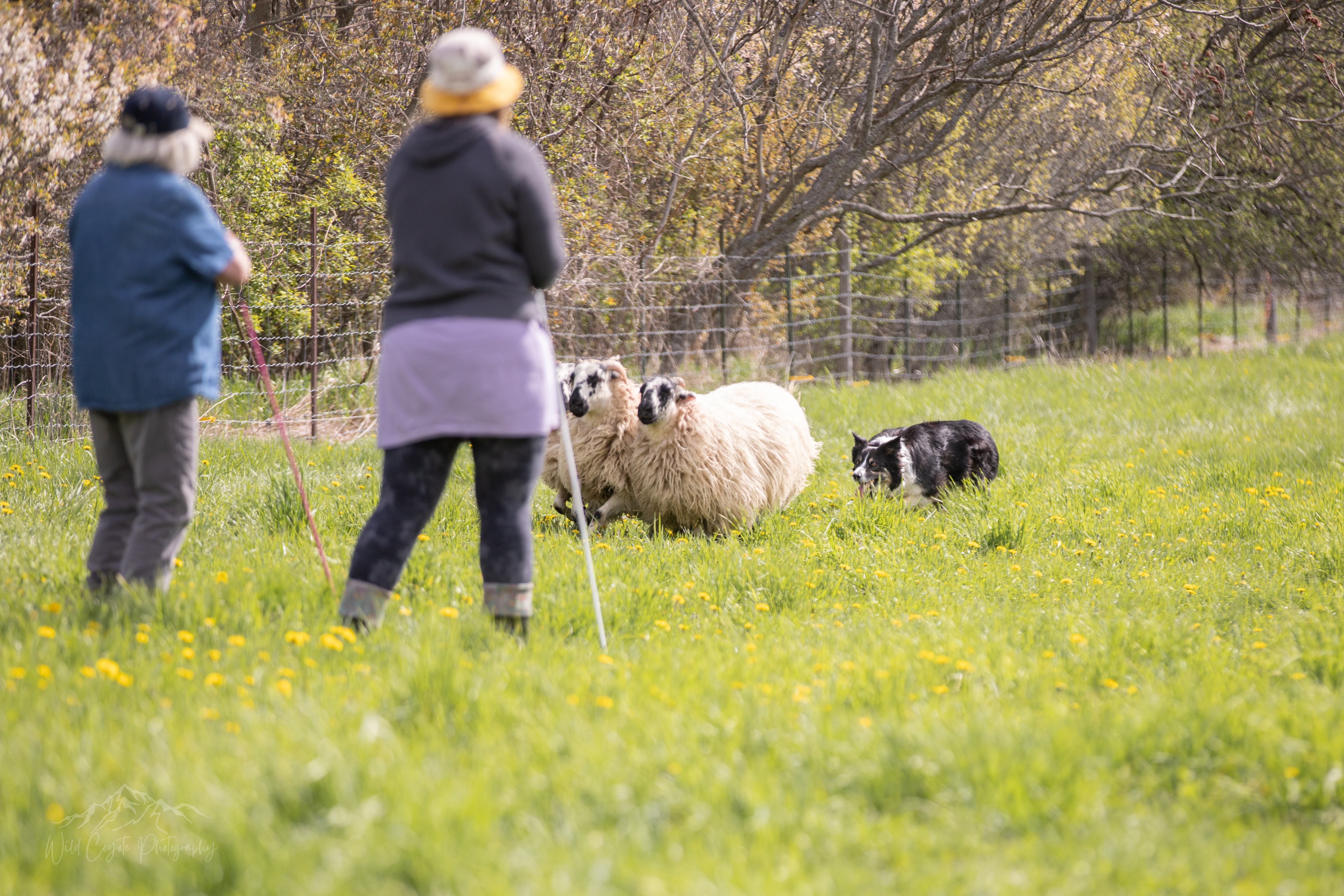 Lunch was a chance for discussion - and there was a lot to talk about. We started out with trial etiquette and eventually dove into some common novice mistakes. For each of us there was advice that struck a chord. Timing (an ever-challenging concept for us novices) was a large topic of discussion. There were a few phrases that described its importance well, but I think my favourite was "hope is not a strategy". In other words, don't wait around until something goes wrong - fix it before it does.  Another topic was the novice-fondness of an ineffective "LIE DOWN!!!!". It had started out as an innocent and useful command and gradually became a frantic appeal for everything to stop so we could try to figure out what was going on. We were gently encouraged to stop using it as a crutch, and to instead use it when the sheep (and dog) needed it. All of this sounded simple enough, but when combined with all the other advice we were given, it became clear why this sport wasn't one of instant gratification. It was an appropriate moment for encouragement, and luckily, that's what our mentors did. They reminded us that our problems were not unique, and that even experienced handlers started somewhere.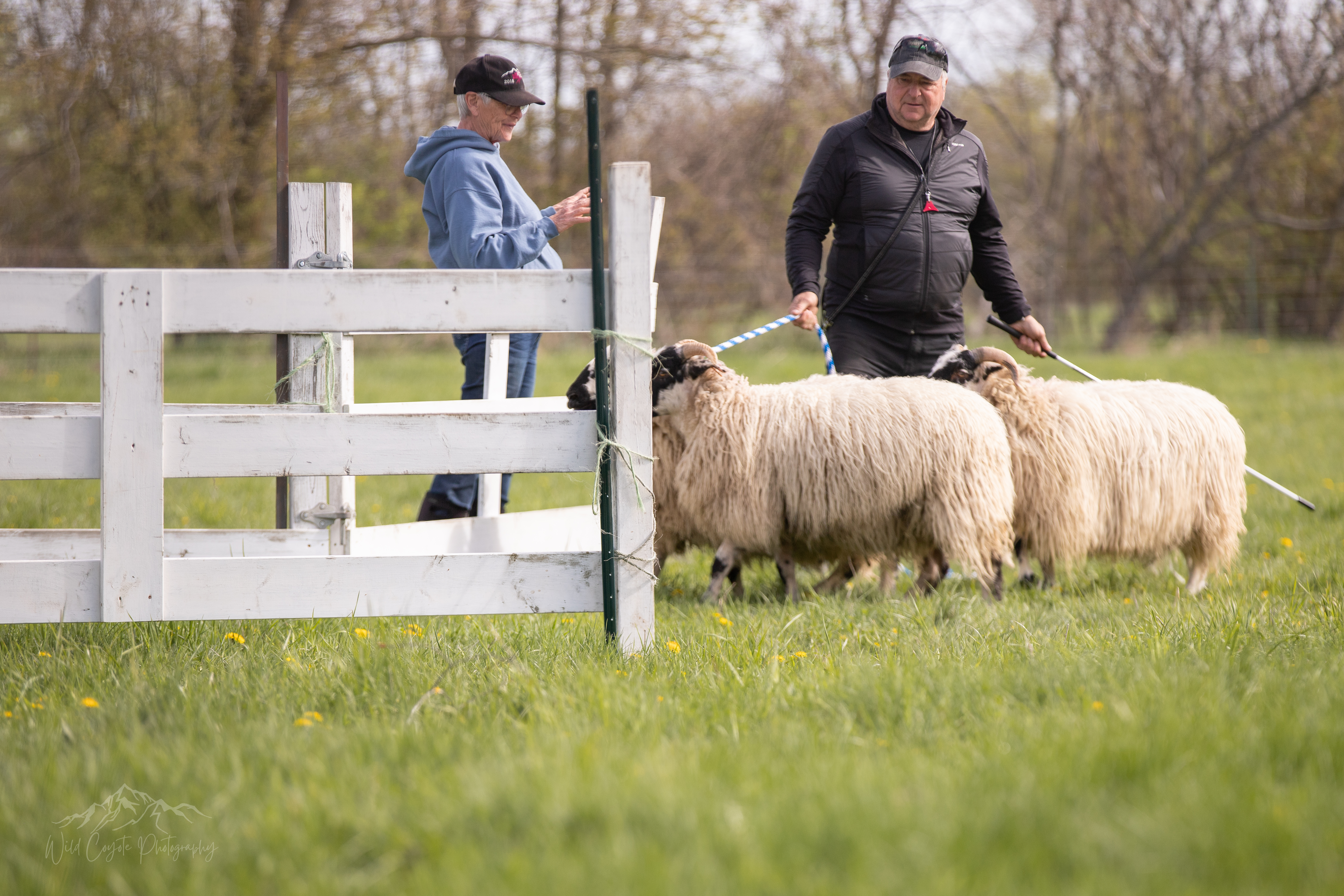 After lunch came our mock trial, complete with Lorna Savage judging. This was a great opportunity to see our weaknesses under pressure without the added stress of competing. For those of us who had never scribed, it was a time to gain an understanding of scoring. There were a lot of learnings, a key one being the importance of getting involved in the sport and volunteering. 
The weekend was well worth the drive, and I think all of us took something away from it. At the very least, we were able to meet and get to know some amazing people who have been a part of this sport for a long time. It was a huge effort made by a group of great people, and it didn't go unnoticed. 
*All photo credit to Felicia Pynes