By Sheila McMillan
On June 15th, 16th and 17th , 2023 Viki Kidd had her first Sheep Herding Clinic which was held at Handy Dog Farm. I was one of the lucky ten participants who received education and then practiced with their dog(s), each morning and afternoon. Carol Guy and her dogs assisted with the practice sessions by holding the sheep at the top of the field.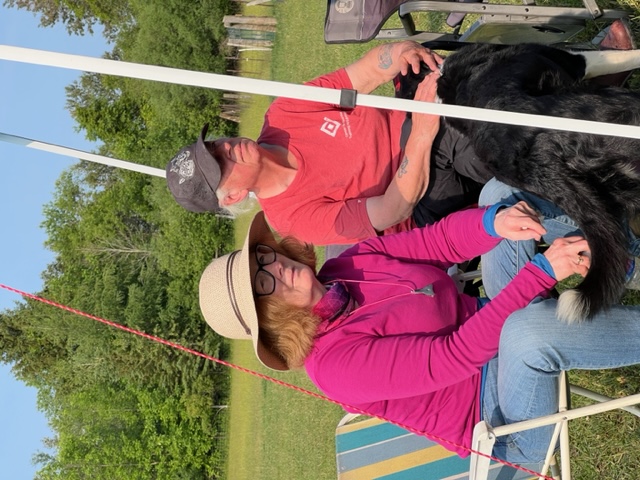 The clinic began with a focus on the outrun, lift and fetch and progressed further as our practice sessions continued. A speaker was set up in the handler's tent where everyone could listen in to the feedback Viki was providing to each participant. What an excellent way to learn! We were no longer just spectators watching as a sheep herder with their dog attempted a task, we were now understanding what Viki, as a skilled handler and teacher was seeing as she provided open commentary. As the dog was on the outrun, Viki would state that the dog was now checking in on the sheep, with a little sideways glance. I had never realized this before and was now aware that when my dog just runs out, with no checking on the sheep he is not really focusing on the task at hand. This may have been old information to other handlers but now I understood how to refocus my dog and felt more in control.
At lunch time on Day One we reviewed video of each handler's work with their dogs from that morning.  Viki provided feedback and helped us set goals for our next runs. This close timing of receiving education, practicing what we learned with our dogs, watching it on video, getting feedback and setting new goals was an ideal way to help advance our knowledge and then see it result in improving our skills.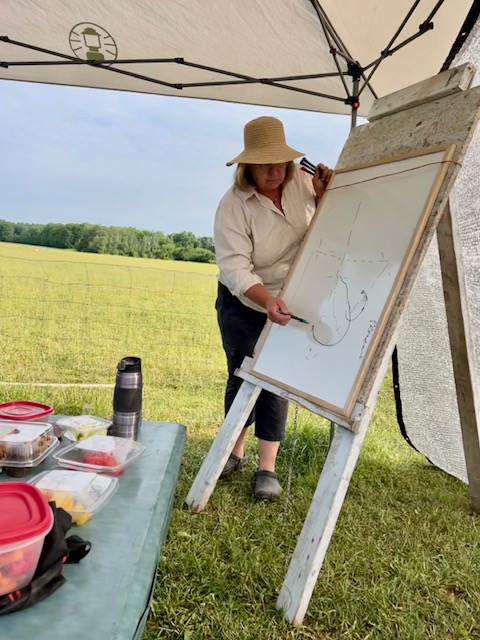 Each morning and afternoon session Viki resumed her education at the board. She drew examples of what she was explaining and answered more questions before we set out again to work with our dogs. Despite all of us being at different levels of skill, Viki was able to direct her education to help each person learn and improve their ability to work with their dog and the sheep. I learned "work the dog you have". A frequently repeated instruction was "look at the sheep". This might seem intuitive, but really it is not. The sheep were wonderful, in that they posed some challenges but were not resistant to working with even the most novice of us.
Having three days to work with Viki and listen and learn while she worked with the rest of the participants was an excellent opportunity. As a novice it was very beneficial to hear Viki's thoughts while she observed dogs working and analyzed what the sheep were doing and thinking. Her ability to understand the dog and sheep interaction and explain it to a novice is very enlightening. When we watch a dog with the sheep, particularly as a novice, we are not truly understanding what we are seeing. 
Thanks to Viki's excellent knowledge and her ability to impart it to the rest of us we now "see" what she sees when we watch our dogs. Oh yes, also when we watch the sheep! Now, the challenge comes, to be able to turn more of that knowledge into a functional task of herding sheep with a border collie.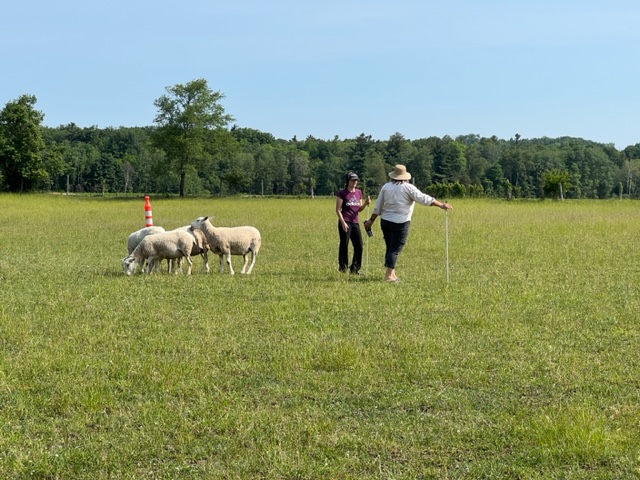 *All Photo Credits to Anne Wheatley