By Celeste Lacroix
For many sheepdog herding enthusiasts, the trialing points year goes from August 1 - July 31 as per the USBCHA calendar.  In Ontario, the Kingston Sheepdog Trial usually starts off that new trialing season.  
This year the event was held Aug 3 – 7.  The competition includes two individual 2 day open trials (110+ handlers each trial, 55 each day) followed by the finals of a double lift on Sunday with the top 15 cumulative scores over the 2 trials.  Handlers from across Canada and the USA gather at this prestigious event that is always well attended by both handlers and spectators.   Grass Creek Park in Kingston provides a picturesque setting with a slowly sloping hill, trees and the St Lawrence River.  Dave Young sets the bar higher each year by adding a new Canadian decoration to the field setup.  
The event is particularly spectator and family friendly with concession stands, other dog events, many specialty shopping opportunities and a mostly treed viewing vantage point to watch the sheepdog trial.   The Waupoos sheep are brought in from nearby Prince Edward County and are well known for being challenging!  More like range sheep, they are not your average farm flock.  
Handlers seemed to be a bit giddy this year, ready to get back to their favorite activity after having spent 2 years in isolation with limited sheepdog trials available.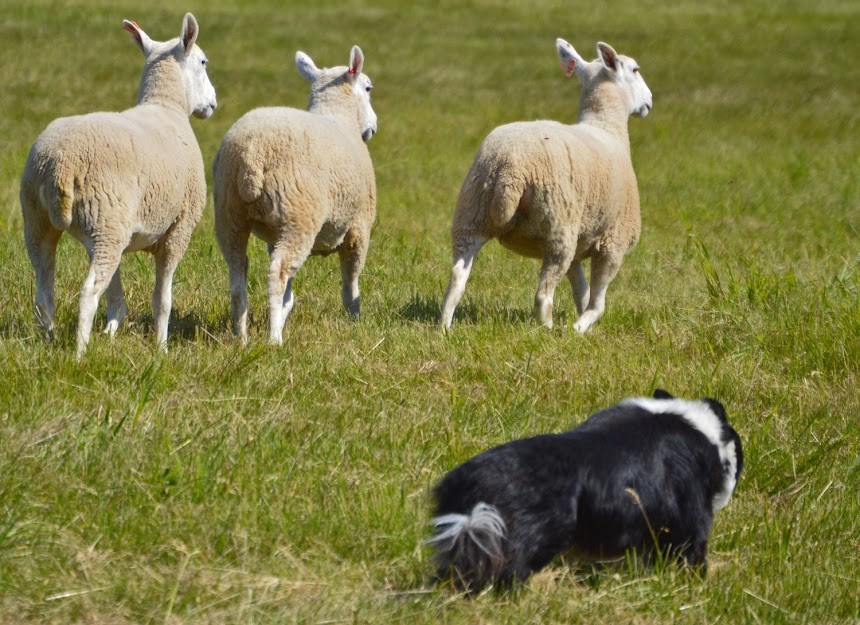 Younger dogs who had not had the chance to stretch out their skills during the pandemic period were particularly challenged by this trial.  Mother nature tested all by providing a heat wave in southern Ontario, the hottest day being the double lift finals on Sunday.   Morning runs seemed to give a small advantage of coolness while the later runs of the day often suffered in higher heats and sheep who wanted to graze in the shade.  Handlers were respectful of their dogs and the sheep limitations and often chose to retire rather than push too far.  At the end of the tally, there seemed to be as many RT/DQ as there were numerical scores.  
*Photo credit Kris Kiviaho  
Congratulations to all handlers who challenged themselves and demonstrated incredible working skills and sportsmanship with their dogs and livestock.    
Open 1 top places were
Mary Ann Duffy & Gwen (80)
Cy Peterson & Tory (78)
Mary Ann Duffy & Jean (71) 
Open 2 top places were  
Sue Schoen & Cora (82)
Amanda Milliken & Tui (80)
Christine Koval & Jim (78)
The double lift final top places were
Mary Minor & Hazel (243)
Mary Ann Duffy & Gwen (234)
Barbara Ray & Dan (233)  
As always, these events take a small village to coordinate, and the Grass Creek Sheepdog Trial is no exception. The judges this year were from Scotland, Neil McVicar and Andrew Carnegie who did an exceptional job of trying to be fair to sheep, handlers and dogs.  The village comprises Amanda Milliken, Sandra Massie, Susan Schoen, Michele Ferraro, Karen Curtis, Dave Young, Mike Crellian, Werner Reitboeck, Sally Molloy, Heather Nadelman, Rebecca Lawrence, Sheila Deane and so many more.  The set-outs were exceptionally difficult with the sheep and the heat but so many handlers stepped up to provide every run with an equal chance of success. My apologies for forgetting anyone but it really is the outstanding effort by all that makes this such a wonderful event. Thank You All!