By Anne Wheatley 

This Thanksgiving weekend Andrea de Kenedy hosted Scott Glen for a 3 day young dog clinic at her Cloudberry Farm near Warkworth, Ontario. I've been lucky to attend some Scott Clinics here and there over the years. Scott is a great assessor of dogs and handlers and a terrific teacher. I was especially interested in this clinic because I have an 11 month old youngster just starting out. 

Initially my dog Rye and I worked in the round pen with a few sheep. He did just fine, going around both ways and stopping on balance and walking up a bit as was possible in the small space. "Don't be afraid of the speed", Scott said. Then he reminded me that pressure off is a very important part of "pressure on pressure off" as I helped Rye shape his gathers.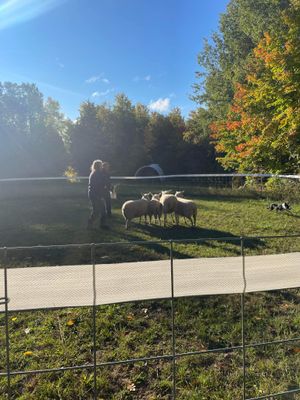 The next day we graduated to a slightly larger oval field where the draw of the sheep to the gate added another dimension for Rye. He was less comfortable. In response, I had to be less concerned with the shape of his gathers and instead help him to see that the sheep weren't going to escape and to know that he could easily catch them or follow them to the draw. 

On day three we took sheep to the far end of a bigger field and did some gathers, small outruns, stopping on balance and wearing. Again Rye was concerned about the different draws to a couple of places on the field. Our time was spent going around in directions, and stopping in places, that made him feel okay so as to build his confidence. If the shape of a gather was reasonable, we left it alone. 

I like my dog and got to know him better this weekend. Others who attended also learned about their dogs and how to handle and help them. The fall weather was pretty darn nice. No one froze or got rained on. The leaves were spectacular. Meals were super. Andrea managed everything seamlessly. 

I think about the time between now and this time next year and the miles that Rye and I will walk together. Can't wait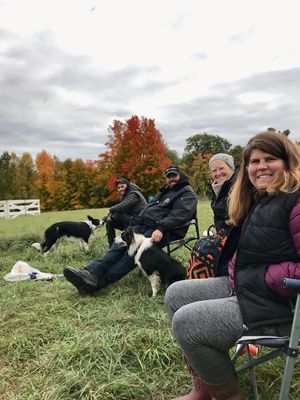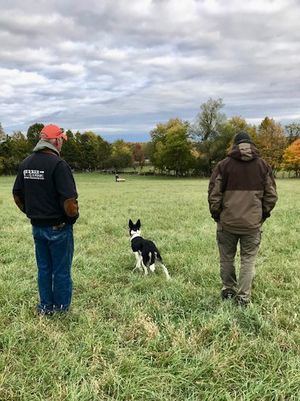 Photo Credits to Francois Leblanc and Anne Wheatley